Video Switches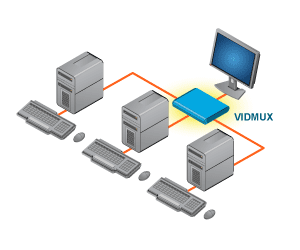 Switch multiple computers to one monitor. Share monitor among several computers.
Also known as: VGA Switch.
The VIDMUX® 4K 18Gbps HDMI Switch routes digital Ultra-HD 4Kx2K 60Hz 4:4:4 video and audio from up to four HDMI sources to one HDMI display.

The VIDMUX® DVI/HDMI video/audio switch enables one DVI/HDMI display and speakers to be switched between two single link digital DVI/HDMI video sources.
The VIDMUX® VGA video switch enables up to 16 computers to be connected to a single video monitor, projector or LCD/plasma screen.